Event!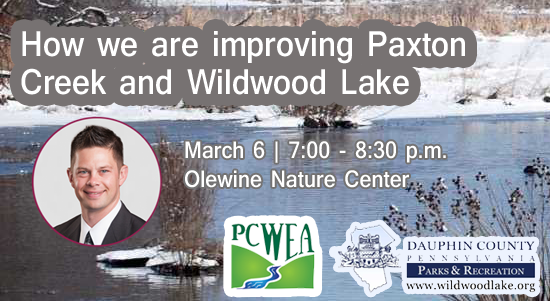 ALSO, in April Look For - Greening Our Cities and Towns Workshop featuring speaker and author Thomas Hylton - link to Events Page
About PCWEA
The Paxton Creek Watershed & Education Association (PCWEA) was founded in 2001 with a three-part mission: to protect and enhance watershed resources, solve watershed problems, and facilitate hands-on environmental education.
The Paxton Creek watershed covers 27-square miles northeast of the City of Harrisburg, in Cental Pennsylvania. Upstream portions of the watershed histroically consisted of woodlands and farmland. While downstream portions of the watershed are situated within the City of Harrisburg where Paxton Creek flows through industrial and commercial properties. In places, downsteam, the creek is channelized and receives heavy sediment loads eroded from rapidly developing areas upstream.
Development in the upland areas of the watershed has led to the construction of impervious surfaces in the form of roads, parking lots, commercial, and residential buildings. These impervious surfaces severally limit infiltration of surface water into the ground and perpetuate stormwater runoff problems. Paxton Creek Watershed generates 15 times the amount of suspended sediments released by typical forested watersheds.
Best Management Practices
We endeavor to educate watershed stakeholders about solutions to the problems of the Paxton Creek Watershed. Key to this educaton is an understanding of the Best Managment Practices (BMPs) available to reduce stormwater runoff and enhance surface water infiltration. To learn more about the need for and use of BMPs click here.
Action Items
PCWEA has developed a list of five action items it believes are necessary to improve the quality of Paxton Creek, its tributaries, and the quality of life within the watershed. These actions are presented in Our Goals.
Map of Paxton Creek Watershed - Link
Where Is Paxton Creek?
The Paxton Creek (Watershed) is situated within four municipalities in Central Pennsylvania - the City of Harrisburg, Susquehanna Township, Lower Paxton Township, and the Borough of Pennbrook.
Its headwaters are on Blue Mountain and it discharges into the Susquehanna River south of the City of Harrisburg, near Steelton.
Take The BMP Tour
Link
Follow Us On Facebook
Images On This page
Main Stream Photo - Paxton Creek North tributary north of Wimbeldon Road;
Menu Images:

Home - Birdhouse in the raingarden at St. Thomas Roasters, Linglstown Road;

About Us - Paxton Creek tributary south of Paxton Church Road photo by R Hakundy, Ten Mile Run;

Membership - Wood frog photo by Seabrooke Leckie, link to Seabrooke's Website;

Newsletters - Monarch butterfly on a Joe Pye Weed;

Coming Events - Fern in the woods photo by R. Hakundy;

Contact Us - Autumn cattails see Cattail website.