Educational Workshops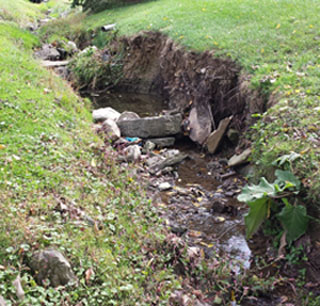 Thanks to a grant from the PA Department of Environmental Protection (PADEP) we will be hosting a series of four educatonal workshops over the next several months. We are in the planning process and information is constantly being updated. This is our current information:
Date & Location Information is Available on our Events Page.
Paxton Creek – Your Local Waterway
This workshop will provide a basic foundation on stormwater runoff, water quality and quantity issues facing the Paxton Creek Watershed. Basic questions on stormwater will be addressed including: what it is, why it is important, best management practices, illicit discharge, and general good-housekeeping practices. This presentation will focus on the Paxton Creek Watershed, and the area it covers, history of land use and region, and regulatory history. Photo at right: Many home owners along Paxton Creek are loosing property to streambank erosion. What does this have to do with stormwater management? Come to this workshop and find out.
Rain Barrel Workshop
Rain barrels are a great way to conserve water, to supply non-chlorinated water for gardening, and to keep excess water out of the stormwater system, thus alleviating some of the stormwater issues plaguing the region. Workshop attendees will learn how to build and properly utilize rain barrels. They will also learn about the problems associated with stormwater runoff, non-point source pollution, ways to conserve water in their homes, and watershed friendly landscaping techniques. Photo below right: PCWEA Rain Barrel Workshop in 2013.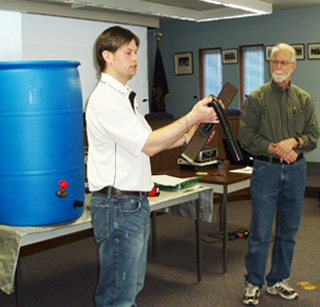 Watershed Decisions
Watershed Decisions is a hands-on, inquiry based activity that helps older youth and adults learn about water quality issues surrounding small watersheds and the decision making processes that go into improving those water quality issues. As "new members" of a community organization interested in improving local water quality, Watershed Decisions participants role-play while examining simulated water samples, exploring the land users in their community, and then creating a plan for improving their watershed on a limited budget. There is no one solution to this activity and the results are dependent upon the creativity, opinions, and ideas of the participants.
Greening Our Cities and Towns
Trees can transform the appearance and livability of our cities and towns. Modern civilization creates plenty of hard infrastructure covering the landscape -- roads and bridges, parking lots, water and sewer pipes, and power lines strung along thousands of poles. But healthy communities use trees and greenery to offset the negative environmental aspects of all this "hardscape." Trees -- especially large canopy trees -- can absorb an enormous amount of rainwater and hold it on their leaves, allowing it to trickle slowly into the ground over time. The canopy of big trees can cover streets, parking lots, and rooftops, even in densely developed areas like traditional towns. One large canopy tree can absorb 1,000 gallons of rainwater over the course of an average year. And trees planted along streams and rivers can prevent rainwater, soil, and pollutants from being washed into waterways.