History & Achievements
Foundation, Finance & Education    May 2000 - August 2004
PCWEA's initial decade (2000-2010) can be viewed as three periods of leadership and activities. Led initially by E. Drannon Buskirk, Jr., PhD, PCWEA began slowly and informally in mid-May, 2000 with six months of discussions and steering committee meetings, exploring much of the watershed's terrain and waters, and learning of its problems, needs, attributes, potential resources, and the identification of partners -- their composition, missions, activities, and leaders.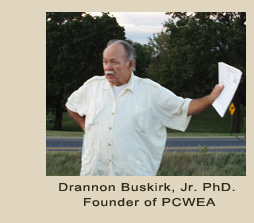 In 2001 the Paxton Creek Watershed Association & Educational Track (PCWEA's first name) was formed, and soon changed its name to its current designation with the PCWEA acronym. It was awarded a Growing Greener grant administered by Harrisburg Area Community College (HACC). PCWEA registered with the state, became recognized by the Internal Revenue Service as a non-profit corporation & 501(c)3 organization, acquired a domain name, and set up an Internet web site. Meanwhile, the Association established relationships with partners, began building its internal capacity, and started considering ways to promote its mission "to help avoid or mitigate watershed problems such as erosion and stormwater runoff, to protect and enhance watershed resources, and to facilitate practical, hands-on education."
Events or activities were conducted regularly, the idea being that something should be done almost monthly, where possible, to enhance watershed awareness by its 60,000 stakeholders (people who reside, work, shop, conduct business, &/or recreate in Paxton Creek watershed), and promote their participation. (Perhaps, even join PCWEA!) The strategy corresponded with seasonal outdoor work cycles, and academic terms. Generally, January and February were devoted to in-house training such as monitoring techniques, attendance at workshops, Midwinter Macros (where participants observe and learn about creek bugs), education, and grant writing and proposal submittals. March was a swing month: more training, and time for the Annual Meeting, where past & future happenings were reviewed, and candidates for the Board of Directors elections were produced, plus a little fun such as singer-songwriter performances, listening to retro records, and viewing a puppet show. During April to mid-June, and again in September – October, outdoor projects (creek cleanups, gardens installation and maintenance, and special studies) were conducted. These months also were times for conferences, symposia, and diversions following cold winters and hot/buggy summers. July – August, generally was a period for writing watershed documents, offering timely activities for children and families such as watershed tours and Creek Critters Safaris (afternoons of comparing live bug collections at various stream stations, where critter populations often represent various water qualities). In 2003 the PA Secretary of Environment David Hess joined the youngsters on a Safari along the creek between Wildwood Lake and Herr Street.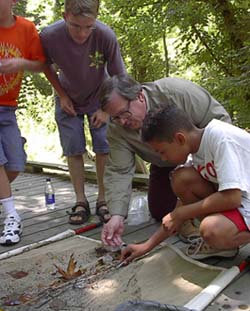 The spring and fall periods were also times when the most volunteers were available (college students, and professional/trade groups) for outdoor watershed projects. In the spring and fall (especially, the holiday period) PCWEA would also sponsor displays at watershed related events such as workshops, conferences, conservation group talks, mall events, and nursery sales. The goal was to spread watershed information and educate the public on PCWEA initiatives, as well as recruit members. These events and activities were mostly successful, because they had contingency alternatives built into them (available back up equipment, personnel, whatever), and compatible activities were jointly scheduled, so that if one activity underperformed, the success of anther might (and did) carry the day. 
In accordance with the above activities cycle, accomplishments during the 2001 – 2004 period included: writing & funding of 4 grants worth $143,000 together with 50% or more of in-kind resources; establishing a quarterly newsletter; conducting education and training (five workshops on topics such as low impact development [LID] -- 2, parts of a series called the Triple Whammy, creek clean ups and conservation landscaping); sponsoring an LID bus tour to sites in Maryland; participating in the Paxton Creek Roundtable led by ACB and the Center for Watershed Protection  (CWP). The Roundtable was a series of discussions, over a six month period, by representatives of watershed businesses, builders, municipalities, state agencies, consultants, utilities, and environmental groups. The result was a document recommending 23 (mostly LID-type) principles for changing development ordinances so as to enhance Paxton Creek watershed and other municipal lands. Nearly all the participants approved the final report. However, by the end of 2010 not one municipality had implemented the principles. 
Education initiatives continued through the PCWEA website.  An Environment and Ecology database for teachers about water instruction concepts was made available online, together with a tour of stormwater "hot spots" (problem areas) in the watershed. Information packets entitled the Healthy Creek Project were delivered twice to more than 40 medical office waiting rooms in the watershed. Each contained eight fact sheets and booklets about stormwater management for all age groups. The aim was to reach more watershed stakeholders, with the idea that people should learn about their local watershed rather than read popular magazines.
During these early years, PCWEA formed five teams of the Rangers, a water quality monitoring group. The monitoring was done for several reasons: checks to determine the state of the watershed, then, and how much it had changed from the last monitoring reports nearly 2 decades earlier; responses to stakeholder complaints, and reports about events such as petroleum spills. They also conducted public demonstration exhibits, and educated youth. PCWEA affiliated with the PASEC (Pennsylvania Senior Environmental Corps), a monitoring organization supported by the state agencies (Departments of Aging and Environmental Protection), and with support provided by RSVP (Retired Seniors and Volunteer Program). PCWEA borrowed one monitoring HACH kit from PASEC, and purchased 4 others. The PASEC protocol (monitoring approaches & techniques) was followed. Intergenerational teams were recruited, underwent training, and used the kits (with other equipment) to monitor physical, chemical, and biological creek parameters monthly at six to eight sites around the watershed. With the US Geological Survey (USGS) and The Harrisburg Authority as partners, water level gauges were installed at 12 sites.
After about three years sufficient data had been collected, although difficult to get from PASEC online records. At the same time, some Ranger team members' health began to decline, and others lost interest, until the group stopped functioning. At the same time PCWEA became disillusioned with some of the tests. There were issues of inaccuracy, inappropriate parameters for the watershed, and lack of acceptance of volunteer-collected data by professionals. If the Rangers should revive and acquire professional equipment, they could conduct effectiveness monitoring of watershed projects. They would determine how efficiently project vegetation, soils, and other best management practice components remove pollutants from runoff. That is, the monitors would make site observations, perform site tests with meters, and collect water samples which would be transported to a central location, where the monitors would conduct many of the tests jointly, and socialize at the same time.
Another activity during the early years was to develop rudimentary Geographical Information System (GIS) capabilities. A few PCWEAers read training books, attended workshops and summer institutes in NY and VA, acquired Arc View software, and received two donated computers for training and production. (Unfortunately the computers lacked sufficient memory for GIS work.) The Canaan Valley Institute (CVI) purchased a satellite image of the watershed (for an updated, base map), and made land use and impervious surface maps for PCWEA. PCWEA conducted ground-truth checks during the construction of the maps. Fortunately, in ensuing years partners PA Geological Survey and Susquehanna River Basin Commission (SRBC) made about 30 GIS maps from data supplied by PCWEA from watershed studies, and state databases held by PASDA at Penn State University.
In preparing the Rivers Conservation Plan, PCWEA gathered data from many sources, and conducted studies alone and with partners on topics such as stakeholder visioning, vegetation, wildlife, ordinances, impervious surface areas, culture & history, water quality, and infiltration with retrofit opportunities in the watershed. In March 2004 a watershed-wide sampling and analysis initiative called Macros Blitz was conducted by five professional teams: two from DEP, one each from The Nature Conservancy, DCCD, and SRBC, together with PCWEA sediment samplers.  All collected data during the same two-hour time period on the same day using the same assessment protocol. These samples from 27 stations were tested for 31 physical, chemical, and biological parameters in the regional DEP laboratory. The macroinvertebrates (water bugs) were sorted, picked, and identified in subsequent weeks (all, again, by the same level-III assessment protocol). One bug species, surprisingly found for the first (and only) time in the creek was a Stygobromus species, a rare, blind shrimp-like creature and cave/other dweller from a total darkness habitat that was collected from drainage into Wildwood Park. This species likely resided between layers of limestone geology, or nearby in a cave/cavern beneath the park.
Beside this data being used in a Paxton Creek Rivers Conservation Plan (RCP), partly financed by the PA Department of Conservation and Natural Resources (DCNR) with many other partners, it was used again (without PCWEA knowledge) in modeling water quality prior to issuance of a Total Maxim Daily Load (TMDL), a pollution removal directive from the United States Environmental Protection Agency (EPA) years later.
During these initial years PCWEA also began document writing along with other initiatives such as stormwater education activities in the capital area with the Dauphin County Conservation District, the Alliance for the Chesapeake Bay, and the Pennsylvania Environmental Council.
RCP, Launch Projects & Huge Targeted Watershed Grant (TWG) September 2004 - June 2007
Achievements were sparse, but significant during the middle years. They include: assessments of two sub- watersheds (Upper and Lower Paxton Creek North) for sources of pollution, severe yard erosion, creek sediment dams, and rudimentary retrofit or rehabilitation; conceptual plans for about 50 sites in the sub-watersheds. This work with the Center for Watershed Protection was financed by Canaan Valley Institute. The RCP was completed and released. Seven stormwater best management practice (BMP) projects launched the plan: four bioretention areas, two rain gardens at schools, and the retrofit of stormwater detention basins at the Friendship Center in Lower Paxton Township. A grant from the National Fish and Wildlife Foundation (NFWF) helped finance these projects. PCWEA recruited partner SRBC, and was successful in applying for a $1.5 million 50:50 Targeted Watershed Grant (TWG) from NFWF. The work featured innovative BMPs for nutrient reduction from runoff, and approaches for municipalities in cooperating on stormwater management. PCWEA's efforts secured about $300,000 in cash and in-kind resources for the grant, which was awarded to, and administered by SRBC. Besides three displays and a newsletter (special RCP edition), the Association's outreach, education, monitoring, and annual activities mostly ceased during this period. The PCWEA President David Sheridan, CE, PhD had a TWG consultancy. To read about projects conducted as part of the TWG - Projects Link on SRBC website.
Projects, Education, TWG Continuance & TMDL July 2007 - August 2010
Starting in July, 2007 the organization was guided by its Board of Directors, with Tom Embich as Acting President. The PCWEA focus during the period was projects, education (infiltration & retrofit workshop, puppetry, and revival of events such as Midwinter Macros). For 12 months, an Association member produced and posted an online weekly information service called PCWEA Environmental Update. It was sent to members and partners, featuring news, event descriptions, and contacts about local environmental activities.
During this period the main volunteer labor source for infiltration BMP projects was HACC students, municipal governments, and professional/service organizations, in addition to PCWEA members. Participants in replacing a neglected rain garden behind a Central Dauphin Middle School were HACC students, and parents of pupils at a nearby elementary school. Those who helped build a bioretention area at Koons Park in Linglestown were Lower Paxton Department of Public Works, Michael Baker engineers, HACC students, and Susquehanna Valley Jaycees. Another rain garden was built at St. Thomas Roasters by PCWEAers, coffeehouse patrons, and others. A modified infiltration and vegetated swale was constructed with assistance from the Susquehanna Township Roads Department and help from HACC students. With others PCWEA assisted also in three TWG projects
In spring of 2008 a TMDL for Paxton Creek was issued setting the levels of pollutants to be removed from creek waters (24% sediment, and 89% phosphorus) to achieve water quality goals (fishing, water contact sports, etc.), and reduce specific creek degradation (erosion with sediment deposits in Wildwood Lake and further downstream). While PCWEA issued a letter to the USEPA criticizing aspects of the TMDL process, PCWEA generally supports TMDLs, because they establish quantitative targets, and outside agency influence is often necessary to motivate municipalities and others to fix such stream problems. After the issuance of the TMDL, some watershed municipalities, developers, and others brought a lawsuit against the USEPA.
Following creation of the TMDL, PCWEA developed a five-part rehabilitation strategy, consisting of the following Big 5 actions: 1) reduction and retrofit of impervious surfaces, and enhancement of poorly performing stormwater facilities; 2) maximum, local infiltration of stormwater, with removal of pollutants by vegetation and soils; 3) adoption of different development approaches by ordinances that create less impervious surface, and save resources such as open space with wildlife habitat. This may be achieved through Low Impact Development, and other means, including watershed greening techniques, such as massive vegetation plantings on undeveloped terrain, along with infill in developed areas. This action is crucial at upstream source locations, where the runoff starts, not mainly at downstream sites, because management practices would always lag behind runoff from upstream locations; 4) changed pollution practices by watershed stakeholders to decrease nutrients and toxic substances washing into the creek; 5) embracement of a shared image by most watershed peoples – essential to successful inter-municipal actions crossing local boundaries, of an improved watershed with its promise, protection, and enhancement
During the two years following issuance of the TMDL, PCWEA conducted twelve education sessions and tours focused upon the Big 5 actions, but attendance was poor and no municipal representatives participated. Gearing up a little for the gardening aspects, PCWEA and partners Smith Paint Products and Hershey Foods Company have supplied confectionary barrels and totes (275-gallon tanks) for use in rainwater collection. During this last period PCWEA sponsored biennial, oral State of the Paxton Creek Watershed Reports at afternoon fall gathering, where partners such as engineering consultants (Herbert, Rowland and Grubic, Skelly & Loy), SRBC, state agencies (DEP), DCCD, PCWEA, and others made presentations on, and reviewed their findings and technical work concerning the watershed. In August 2010 a meeting celebrating the decade was held, where members saw a relief map being developed depicting the location of watershed improvement projects, and received personal certificates extolling their attributes with services to the Association.
A New Decade: Board Training, Rivers Registry, and TMDL Update    September 2010    
In mid-September 2010 PCWEA and partners sponsored a hands-on infiltration and retrofit workshop, with field inspection and comments on retrofit practices concerning a detention basin, stormwater outfalls, vegetative buffers, drainage, and infiltration enhancement possibilities at a large grocery store along Linglestown Road in Susquehanna Township.
Fall 2010 began the next period of PCWEA under a new President, Rhonda Hakundy-Jones, PG. In November four members of the PCWEA Board of Directors attended the Chesapeake Watershed Forum, an annual gathering of watershed advocates and professionals at the National Conservation Training Center in West Virginia, for 3 days of training and networking. During December 2010 Paxton Creek, on the strength of its Rivers Conservation Plan and projects execution, was designated for the DCNR's PA Rivers Conservation Registry. In late January 2011 news media (Patriot-News 1/29/2011) announced that a group in litigation against the TMDL (municipalities, developers, PA Home Builders/others) had influenced the DEP and USEPA to remove Paxton Creek from a list of pollution impaired water bodies. Nothing was announced by the agencies, however. For years the DEP had classified 17 of Paxton Creek's 53 linear miles of tributaries as pollution impaired, based upon lab tests and field studies. According to this alleged agreement, the developers imply that they and the municipalities could ignore the TMDL. The battle over the TMDL likely will continue. PCWEAer E. Drannon Buskirk, Jr. commented, "It is like painting a problem with invisible paint. Neither agency statement, nor witches' spells will make a problem invisible, and whitewash will not make it go away. In your mind or body, or surrounded by a legal smokescreen, you will still suffer, and the problem will remain. Without the TMDL restrictions [requirements], it will take much longer [and eventually at far greater cost] to fix the problem."